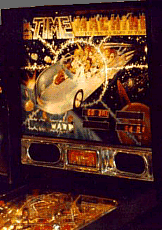 Pinball Machines




Time Machine pinball by Data East.



Whitewater pinball by Willams.



Party Zone pinball by Bally.



Indiana Jones pinball by Willams.



WILLIAMS pinball and games manufacturers.



Avalon Pinball

Pinball Arcade Preservation Society


These pages designed and maintained by the KC webmaster. If you have any queries or comments about the KC World Wide Web pages or other services please contact us .

Page owner: <dgd@kcbbs.gen.nz&gt

Last modified: 27 May 1997.