KCbbs, March/April 1991
---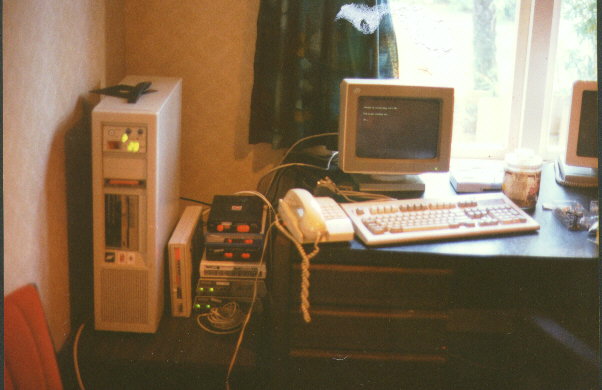 ---
A not too well focussed image, taken using natural light. I remember at the time it was to use up the last two frames on a 35mm film, the rest of the film had been used to photograph the Auckland Robotic Observatory's telescope mounting.
The image has been dated because the next frame on the film shows a New Zealand Microcomputer Club poster on the wall above the tower case and this poster was made for the Bits and Bytes Computer show in 1991 at which KC appeared as part of the NZMC stand. At this time the NZMC partly sponsored KC with two phone lines in return for club members have usenet access. (there were no user charges at that time, access to KC was free!)
Anyway there are some nice stories that come to mind from this image.

Computer

A full size tower case, 1.4 and 1.2 meg floppy drives are visible. The motherboard at the time of this pic would was a 486DX33 with 16megs of memory. The original receipt for this ISA bus motherboard shows it cost $2238 (inc GST) and the 16megs of ram consisting of four 4meg 30pin 70ns partity simms cost $3577.50 (inc gst). The invoice for the memory is marked "Special dealer price offer January 1991","Unit price $795"
The hard disk drive in this computer would have been an NEC full height 5.25inch 680Meg SCSI connected to an Adaptec 1542b scsi isa bus scsi controller. The scsi disk was purchased in February/March 1991 at a cost of $5500+gst. Not visible would be the Stallion multiport controller behind the computer and modems. The screen is an IBM small 13inch VGA monitor and just discernable on the original print is an SCO Xenix message on the screeen with a Login prompt. It appears that for the picture one of the SCO 'virtual' screens has been displayed.
To the left of the IBM screen is a Wyse 99GT terminal. This was connected to one of the serial ports ad provided a second console screen for the bbs system.
On the desk to the right of the IBM AT extended keyboard (a prize possession at that time, it cost $675+gst in mid 1988!) is a jar of coffee and out of picture to the far right would have been a coffee percolator, essential for the many late night sessions spent in fromt of that IBM screen.

Modems

A variety in this image. All bleeding edge at that time, at least those that can be identified.

The one leaning against the tower case is a Telebit Trailblazer that was used on the voice line (817-5569) after hours. It was Jon Clarke who operated status bulletin board who first introduced me to the Trailblazers as they were really the fasted throughput modem available at the time. Their popularity was severly hindered in New Zealand (and probably elsewhere) by the horrific unit pricing of just over $4000 each. V32 modems at this time were also expensive but about $1700 each.
Jon had loaned me a Trailblazer for a few weeks before this but I could not find anyone else with a TB that could connect to it just to see the high speed PEP connection in operation. Shortly after this I was amazed to find a TB+ at an auction and I purchased it for $200. This is the one in the picture. Jon called my trailblazer with his for a uucp connection to his system (status.gen.nz). This arrangement lasted about 3 months until other events overtook Jon, status ad PEP modems!

The stack of modems all appear to be v32 types.
The topmost modem is a Compuspec v32 model locally manufactured in Auckland by Compuspec Industries Ltd. At this time Compuspec had what appeared to be a winner with modem technology. Based on the Rockwell data pump and also implementing a 12000 baud data rate (which was eventually the first fallback speed for the new V32bis specification that was being proposed about that time),many NZ companies involved in data communications were very supportive of Compuspec. Universities invested in this product and since it was perfectly spec'ed for NZ conditions it became quite popular. Unfortunately Compuspec did not grasp this opportunity to keep up with the technology and totally lost their market leader position when V32bis modems started to appear. Eventually they managed to offer a v23bis product but long after the market has been saturated with many lower cost imported modems.
The modem in the picture shows the distinctive thin black case and large red on white C logo that Compuspec placed on the top of their modems.
The invoice for this modem shows that it cost $1640+gst in October 1990 and a second invoice dated December 1990 has a price of $1495+gst.

The next modem is a Lightspeed V32 model
This was provided by TL Systems in Auckland and the blue edged plastic facia with aluminium extruded body was the same basic design used by all of the external Lightspeed modems (the slower 2400baud types had a black plastic surround facia). The actual modem card was a rack mounting design which was simply pushed into the aluminium case to become a stand-alone external modem.
This particular modem was loaned to KC by the then sales manager (Gary Moore) of TL System, Onehunga, who sold PC products. The modem was eventually returned in mid 1991.

Below the Lightspeed is an unidentified modem, it may have been a 2400 baud type although this is thought to be unlikely as by late 1990 all of KC's lines would have had v32 modems.
The most likely candidate is a Digitech v32 modem as about this time I remember Digitech had just released their new v32 modem and KC had one for testing for a few weeks. I cannot remember the results of this testing but the modem was returned after a short while.

Next is a Multitech v32 modem. This modem was purchased in March 1991 at a price of $2295+gst and sold in April 1994 for $200.
I remember this modem was not the most stable and often had difficulty training and connecting to quite a few user modems. It also seemed to be most happy working a 9600 baud without error control or compression enabled. It was also the first modem at KC to have not only MNP4/5 capability but also had v42/v42bis.

The lowest two modems in the stack are v32 Australian made Dataplex modems. These had a distinctive two tone grey coloured two piece aluminium case with an internal power supply. (all the others had external power bricks). The case was quite roomy inside and well ventilated resulting in a very solid and reliable modems. Unlike all other that had heat problems the Dataplex modems never had any problems. When first released the ROM software was somewhat limited and they only supported MNP4. A rom update in early mid 1991 added MNP5 compression and later updated added v42/v42bis capability. Compared to the others these were relatively expensive and the first one cost $3000 when purchased in mid 1990, the second cost $1995 in early 1991. Later in 1991 two more were purchased as they had become 'older' models when a new control board design was introduced that could be upgraded to support v23bis (14k4), these two cost $800 each.
The two modems shown would have been connected to the two main lines into KC at that time 817-3714 and 817-3725.
All of these modems were disposed of in 1993 when v32bis modems were available.

Software, other stats

The software in use on this system is SCO Xenix and the KCbbs bulletin board program. There were no Unix shell logins available to users and the bbs program in use provided a login capability. Users could not leave the menu driven bbs environment.
The bbs menu provided email, bulletins, usenet news reader, local messages, file downloading and a file archive.
There were 231 registered users on KC at that time, 109 were regulars who connected at least 3 times a week (the modem/user ratio was really bad by today's standards at near 1:20)
Usenet news consisted of 962 newsgroups with about 30megs of news arriving daily - KCbbs received news via a dial up UUCP connection to mercury.gen.nz (Epsom, Auckland) which in turn connected to the dsir at Mt Albert who had a 9k6 link to a dsir site at Victoria University in Wellington.
VUW then has a 9k6 link to the University of Sydney in Australia, this being the main internet connection to New Zealand.
KC was the only public access internet system in Auckland at that time although there were at least three other private systems.
---
These pages designed and maintained by the KC webmaster. If you have any queries or comments about the KC World Wide Web pages or other services please contact us .
Page owner: <dgd@kcbbs.gen.nz&gt

Last modified: 6 March 1997.