KCCS's Sun Sparc 4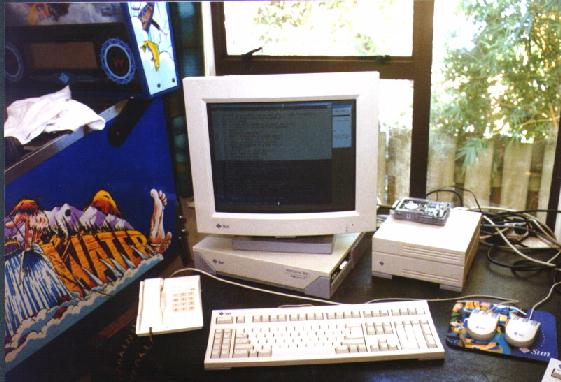 Sun Sparc 4 that is currently the main KCCS system - kcbbs.gen.nz
The disk box to the right of the S4 contains a 1.4gig drive, the bare drive sitting on top is a new 2.1gig drive about to be installed inside the S4 chassis.
On the left can be seen the cabinet of the Whitewater pinball machine with glass-top cleaning rag on top.
The S4 does not have two mice, the other mouse belongs to the UltraSparc
The Sun 20 inch screen is usually a favourite sleeping place for one of the cats. Often there is a scratchy growling match to see who gets the warm place to curl up on. No cats though when this pic was taken.
The disk cabinet and desk in general is uncharacteristically clean as it is normal to see a liberal spread of pussy cat muddy paw prints over eveything and the occasional empty tinnie or drained whisky glass.




Page owner: <dgd@kcbbs.gen.nz&gt

Last modified: 10 August 1996.