HANDREARING GUIDE FOR THE BEGINNER.
By Kellie Stewart
††††††††††††††††††††††††††††††††††††††††††††††††††††††††
<![if !supportEmptyParas]> <![endif]>
Reasons for handrearing.
The parents are not reliable when rearing their young
Because you want to
Parent birds pluck the chicks
To have a tame bird for a pet
To increase the number of babies produced each breeding season
Some one letting mum out of the aviary up an extremely big pine treeÖ.
The last reason on the list is when I tried my first step at hand rearing. Now I found myself with 4 Indian ringnecks to feed, as mum was perched at the top of the tree mentioned above. Luckily I had the basic set up and things didnít get to stressful.
Your systems requirements should include the following.
A reliable accurate heat source (especially in young birds day 1 to week 4) such as are brooder or incubator
Thermometer (to test temp of food before feeding)
Feeding device. (bent spoon -

†

syringe - eye dropper - crop needle - tube feeding ) I recommend the bent spoon for the beginner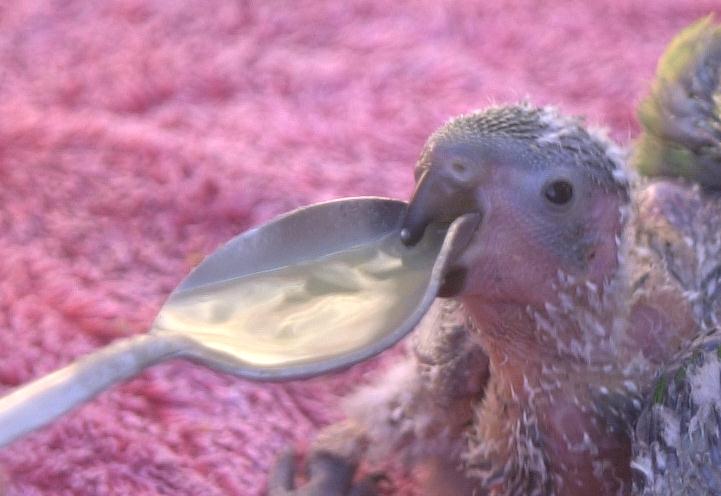 Feeding baby lory with bent spoon.
Feeding formula (e.g. Katies exact)
Paper Towels (unbleached) donít use handy towel that have been bleached. When they are wet from the droppings it causes a reaction which burns the chicks feet legs and under belly causing blisters and sometimes death.
This chart will give you some idea of feeding schedule for a rainbow lorikeet of different ages.
†Please note this is just a guide.
†††††††††††††††††††††††††††††††††††††††††††††††††††††††††
| | |
| --- | --- |
| Day 1-7 | 2 - 2Ĺ hourly- last feed at midnight first feed at 5- 6am |
| Day 7-14 | 2-3Ĺ hourly- last feed at 11pm first feed at 6am |
| Day 14-21 | 4 hourly- last feed at 11pm first feed at 6-00am |
| Day 21-28 | 4- hourly- last feed at 11pm first feed at 6-30am |
| Day 28-35 | 4ņ hourly last- feed 10-30pm first feed at 6-30am |
| Day 35-42 | 4Ĺ-5 hourly- last feed at 10pm first feed at 7am |
| Day 42-49 | 5 hourly- last feed at 9-30am first feed at 7am |
| Day 49-56 | 5-6 hourly- last feed at 9-30am first feed at 7am |
| Day 56-63 | 6 hourly- last feed at 9-00am first feed at 7am |
<![if !supportEmptyParas]> <![endif]>
<![if !supportEmptyParas]> <![endif]>
THE GOLDEN RULES OF HANDREARING.
∑ Keep feeding utensils and feeding area clean wash hands before feeding
∑ Keep the chick on the right temperature for its age
∑ Use fresh food never reheat old food from the last feed
∑ To make it easier on the bird when feeding go with the chicks chugging motion as he eats. Wait till he starts to beg for the next spoonful, and off you go again. Feeding food to fast can sometimes choke the bub do it in his/her time.
∑ Always use a thermometer to check the temperature of the food before feeding.
∑ If food has been reheated in the microwave stir very well and check temp again before feeding as hot spots occur when heating food in the microwave.
∑ Never feed if the crop has food remaining from the previous feed.
∑ Use a reliable good quality hand rearing formula and follow the quantity instructions of water to rearing food. Hand rearing mixes get thicker when left to stand. Let the food stand for a minute after mixing and add more water if its too thick before feeding
∑ Donít mix chicks of different types in the same container (within reason). This was learnt by personnel experience. One rainbow lorikeet at 7 weeks of age chewed the toes legs and wing tips of three 4-week-old baby king parrots. Causing a blood bath of missing toes and injured babies.
∑ Donít change your hand rearing food stay on the one you started with if you have to change introduce the new food into the diet gradually over the next few days by mixing the 2 formulas together gradually until the bird has been reverted to the new mix.
Temperature guidelines for brooders in degrees Celsius
| | |
| --- | --- |
| Day 1-7 | 36.9-34 |
| Day 7-14 | 33-30 |
| Day 14-21 | 29-28 |
| Day 21-28 | 28-27 |
| Day 28-35 | 27-26 |
| Day 35-42 | 26-25 |
| Day 42-49 | 24-23 |
| Day 49-56 | 24-23 |
| Day 56-63 | Room temp 23-20 |
IMPORTANT NOTE
Place a small container of water in the brooder set up to create humidity in the environment, if this is not done the dry heat will dehydrate your chick very quickly. You can make your own brooder if you are electrical minded or buy one. Some people have had success by using the hot water cupboard. This is all right for older birds from 6-7 weeks onwards, as long as the temperature stays reasonably consistent.
FREQUENTLY ASKED QUESTIONS:
WHAT TEMPREATURE DOES THE FOOD NEED TO BE?
42-43 degrees Celsius
HOW DO I TELL IF MY CHICK IS COMFORTABLE WITH THE TEMPREATURE IN THE BROODER?
If your bird is panting it is to hot. If his feet and wingtips are cold then the baby is cold
<![if !supportEmptyParas]> <![endif]>
I HAVE SEEN SMALL CONTAINERS OF WATER IN REARING BROODERS WHAT IS THAT FOR?
To create humidity in the brooder, dry heat will dehydrate the chick very quickly
<![if !supportEmptyParas]> <![endif]>
WHY DONíT YOU FEED THE FOOD FROM THE LAST FEED?
This increases the chance of crop and digestion problems developing.
<![if !supportEmptyParas]> <![endif]>
WHAT IS CROP SLOW DOWN?
Crop slow down is when the crop stops passing the food through. This can happen for various reasons. Sudden change of hand rearing food, food being made to thick for the age of the bird, fungal and bacterial infections. This also can happen if you feed the food to cold or the bird is too cold.
WHAT DO I DO IF I GO TO FEED MY CHICK AND THERE IS STILL A GOOD AMOUNT OF FOOD LEFT IN THE CROP FROM LAST FEED?
Depending on age let the chick miss a feed then give a feed of boiled water and Manuka honey only this works very well massage the crop very gently watching you are not pushing the food to far up the crop as it could spill over into the lungs.
If the crop does not appear to be empting there may be an underlining problem such as a fungal or bacterial infection or a blockage of some type. Then it would be best to seek professional advice. (Vomiting in between feeds is a good indication of a fungal or bacterial infection being present.)
*If you feed ďKaties ExactĒ hand rearing food the chances of this happening is very rare I will say it is one of the best hand rearing food available.
<![if !supportEmptyParas]> <![endif]>
WHAT IS GAS CROP?
Gas crop is a condition where the crop fills with gases like a balloon created by bacteria. This can happen with unhygienic food preparation, unclean feeding utensils, and feeding old hand rearing formula. This condition is usually fatal to young birds.
WHATS A GOOD AGE TO START HANDEARING A BIRD IF YOU ARE A BEGINNER?
At pinfeather stage as the first few feathers are breaking through. This is usually three to five weeks old.
WHAT IS A GOOD BIRD TO TRY YOUR HANDREARING SKILLS ON?
Cockatiel budgie, Indian ringneck, scaly lorikeet
WHY IS MY CHICK GAGGING AND IT CANíT SEAM TO GET THE FOOD DOWN?
The bird is too cold the brooder temp needs to be increased or the food is being fed to cold or the bird is already full
WHY IS MY CHICK VOMITING?
You have feed the chick too much or it has been fed too quickly or it could be due to a fungal or bacterial infection.
HOW DO I TELL MY CHICK IS FULL AFTER A FEED?
The crop should be nice and rounded it should be quite noticeable that there is food in the crop it should feel spongy. Small bubbles should appear each side of the neck once you see these the chick has had enough to eat. These get harder to see as the chick gets older but by then you should have it under control. If you have feed too much the crop will feel hard. The crop is the buldge that forms in front of the chick after a feed.
<![if !supportEmptyParas]> <![endif]>
WHAT ARE THOSE STRANGE BUBBLES ON THE BACK OF THE NECK AFTER A FEED?
The expanded (full) crop can be seen from the upper back of the lory and any air in the crop (normal) can show as air pockets protruding from the upper back. These only appear when the chick is full.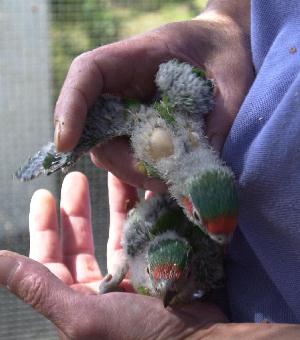 Musks after feeding, note the 'bubbles' on the upper back,
this is a normal sign of a full crop.
<![if !supportEmptyParas]> <![endif]>
FEEDING CHICKS FROM DAY ONE.
This is a general guide for a beginner, I donít recommend a person to try their first handrearing experience on a bird so young, but as we know these things can happen.
With having chicks so young you need a very reliable heat source, one that stays at a constant temperature and can hold the heat of† 36.9 degrees. This should be a humid heat this is done by placing a small bowl of water in the brooder.
I feed birds this young on a small bent salt spoon other people use eyedroppers and small paintbrushes.
The first thing you should do when the chick hatches is clean the navel area where it has been attached to the yolk sac of the egg. You can use an Antibiotic powder (AUREOMYCIN ANTIBIOTIC POWDER) this can be applied with a cotton bud. You only have to do this once. Not cleaning this area can result in an infection. The antibiotic powder can be purchases from your vet.
Never attempt to aid hatching if you donít know what you are doing.
Leave the chick for approx 8- 10 hours (depending on the species of bird) after hatching before giving the first feed. The reason for this is to enable the chick to absorb the rest of the yolk sac that the chick was feeding on while in the egg.
The first 2 feeds should consist of probotics and in lories and lorikeets glucose can be added. Then if you are using katies exact the food should consist of one part rearing food six part water. The feeding temperature is very important here and as noted before food should be 42 degrees. Remember food should not be thick the consistency should be watery.
You can leave you chick for 5-6 hours during the night if you have past the stage of the 2 probotic feeds and one food feed. Feeding for a newly hatched chick is between every 1Ĺ -2 hourly for the first 3 days. Increasing feed times Ĺ hourly intervals, as the chick gets older. Let the crop empty before giving the next feed
Keep a good level of hygiene in all aspects of handrearing. I use antibacterial tablets used to sterilize babyís bottles to clean my feeding equipment. Boiled water poured over rearing untensils is another good way of sterilizing.
*Probotics are a form of electrolytes and are used to hydrate the newly hatched chick. This can be purchased from various pet shops, it is good to have on hand as they are useful first aid items for your birds in general.
<![if !supportEmptyParas]> <![endif]>
FEEDING QUANTITIES
Feeding the right amount of food for the age of the bird is most important. Each feed should consist of a volume equivalent to 10-12% of the birdís body weight.
†
HOW DO I KNOW WHEN TO START THE WEANING PROCESS?
The chick will start to get funny and play with the food at feed time. A good sign that a bird is ready to start to go through the weaning is if you look at the wings of the developing chick, you will find blood in the developing feather shafts and they re still partly covered in wax. Once there is no more blood in the feather shafts and no more wax surrounding the feathers, then the chick is ready to start being weaned. Lorikeets can be weaned before this stage, they are born naturals and can feed themselves from quite a young age, but still like to offered fresh warm feeds at feed time. Some birds are difficult and weaning turns into a long process, depending on the bird. Lorikeets would be the easiest and cockatiels one of the difficult ones, from my own experiences.
WEANING PARROTS
Offer food at different parts of the cage or place where it is easy for the bird to see and get to. Millet spray, apples, oranges, soaked vogels bread and greens are a good tempter to get the birds interest. For a while the chick may pull and nibble and not eat much at all, then all of a sudden it happens. The chicks will still beg for you to feed, keep in mind you should be still feeding them 3 times a day at this point. Once you see they are getting the idea and food is being eaten, you can lower the feeds to 2 times daily until they have got the idea to do it on their own. Weaning parrots can take from 2 weeks to 2 months depending on size. I also soak and sprout seed for the young I found it helps them to get the idea on how to hull the seeds, as they are a lot softer to eat.
WEANING LORIKEETS
Make food available near a perch. Lorikeets can eat for themselves from 5-7 weeks old. You still must offer warm food and at the same feed times, but lory chicks take great delight in lapping the wet mix it comes naturally to them. Watch they donít gorge themselves and over eat. I usually start the weaning process with lorikeets at 6/7 weeks old. Honey water, apples, pears, a quickly dunked malt biscuit, dandelion and soaked bread in honey water tempts any young lorikeet to have a nibble including wet mix offered warm 3 times daily. Millet and soaked and sprouted seed is also great to help wean your lorikeets. Lorikeets at 5- 6 weeks of age will take approximately a week to wean. They learn faster if they are in a group of slightly different ages as they copy each other.
Last modified 12 December 2002.